Broadcast switcher is an important equipment used largely these days in film and video production. It comes with a special feature enabling switching or selecting various audio video signals, received from multiple sources. Broadcast switchers is a key part of video broadcast and the introduction of which has made the video transmission process easy. Broadcast switchers mainly find their use in control rooms, remote trucks, edit suites and many more. Based on their usage, switchers come in many types such as production switchers, routing switchers and master control switchers.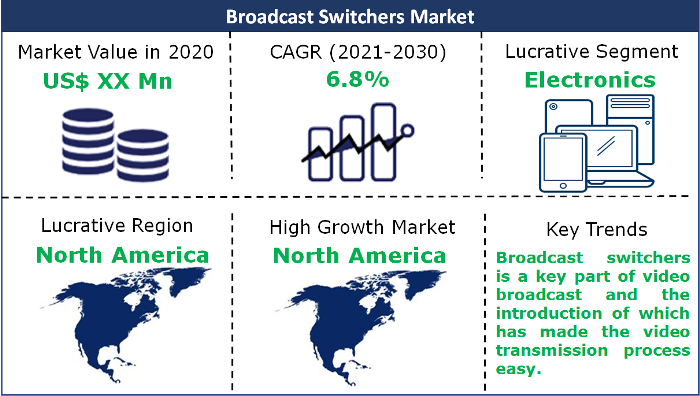 Increasing Use of Digital Television Remains as The Key Driver
The global broadcast switchers market is expected to grow with a CAGR of 6.8% during the forecasted period of 2022-2030. The significantly rising usage of digital television and high definition television is expected to improve the experience associated with video broadcasting. Also, there is a rising penetration of television even to the developing and developed countries. These factors are expected to drive the broadcast switchers market. Broadcast switchers are utilized in the transmission of video and audio signals in the broadcasting network.
Broadcast Switchers Remains as The Fastest Growing Segment
Production switcher is a device that is used to select between various video sources and composite mix video sources to develop special effects. The cable operators and broadcasters have invested a huge amount in this segment of broadcast switchers to enable high definition digital content. As compared to other segments of broadcast switchers in product type, is one of the fastest growing segments. It is anticipated to grow at a CAGR of 7.2 % in comparison to routing switchers and master control switchers that are estimated to grow at 6.9% and 4.9%, respectively over the forecast period.
Routing Remains as The Dominant Segment
There are various network sources where routing is performed such as telephone network, electronic data network, transportation network etc. Routing has become the dominant form of addressing on the internet. Studio production is also showing significant growth with aCAGR of 7% during the forecast period. Major drivers for the switchers studio production market are adoption of digital over analog, increasing number of people demanding HD and expansion of broadcast industry. Sports broadcasting is expected to grow at a CAGR of 7.5% over the forecast period owing to increasing numbers of sports events, growing adoption of HD format worldwide and rising number of digital channels in the world.
North America Remains as The Largest Market
North America is expected to be the largest market sharing approx. 38% of the global market; however, APAC is expected to be the fastest growing market in the forecasted period, and is expected to grow with a CAGR of 8.1%. Some of the major reasons contributing to the high growth rate of Asia Pacific market are rising per capita income and GDP in countries like India and China, large population and rising penetration of television sets. Some of the factors restraining the global broadcast switchers market are high capital investment required for the equipment and other procedural events of broadcasting, also lack of proper standardization process in content distribution is expected to hinder the growth of the market. Untapped APAC market and advent of new technologies such as 4K UHD TVs and 3D digitalization are great opportunities for the market which can be beneficial in the coming years.
Market is Highly Fragmented
Global broadcast switcher market is highly fragmented with presence of various companies. However, the market is dominated by US based Ikegami Electronics U.S.A. Inc. Ikegami is one of the world's leading manufacturers of high quality professional broadcast equipment. Ikegami offers a broad range of TV cameras for ENG, EFP, Studio, HDTV, CCTV, and Medical Imaging. The company markets its products in local and overseas markets. The company's robust product portfolio is leading the growth of the company. Some of the major market players of the industry are Axon Digital Design, Broadcast Pix Inc., Sony Electronics etc. Mergers and acquisitions are considered as major strategic moves to expand in the global market. Also integration with the latest technologies and investment in R&D activities are expected to help the companies in the long run.
Historical & Forecast Period
This research report presents the analysis of each segment from 2020 to 2030 considering 2021 as the base year for the research. Compounded annual growth rate (CAGR) for each respective segment are calculated for the forecast period from 2022 to 2030.
Report Methodology
Market revenues and CAGR were derived from primary and secondary research. Both quantitative and qualitative trends were considered for extrapolation of market revenues. The derived market estimates were further validated from top down, bottom strategies and primary research. The scope of the market is limited to the following segments of product categories and region.
Global Broadcast Switchers Market, By Products, 2020-2030, ($Millions)
Production Switchers
Routing Switchers
Master Control Switchers
Global Broadcast Switchers Market, By Number of Ports, 2020-2030, ($Millions)
Coaxial
Uncompressed IP
Compressed IP
Others
Global Broadcast Switchers Market, By Application, 2020-2030, ($Millions)
Sports Broadcasting
Studio Production
Production Trucks
News Production
Post Production
Others
By Region (2020-2030; US$ Mn)
North America
Europe
Asia Pacific
Latin America
Africa
Global Impact of Covid-19 Segment (2020-2021; US$ Mn)
Pre Covid-19 situation
Post Covid-19 situation
Key questions answered in this report
What are the key market segments in current scenario and in the future by product categories?
What are the key market segments in current scenario and in the future by regions?
What is the key impact of Covid-19 over market revenues and market determinants in the global broadcast switchers market?
What are the primary and secondary macro and micro factors influencing the market growth currently and during the forecast period?
What are the primary and secondary macro and micro factors deterring the market growth currently and during the forecast period?
How to overcome the current market challenges and leverage the opportunities in each of the market segment?
Who are the key players in the operational predictive maintenance market and what are their key product categories and strategies?
What are the key strategies – mergers/acquisitions/R&D/strategic partnerships etc. that companies are deploying to enhance market revenues and growth