Global energy management system (EMS) market is estimated to grow at a CAGR of 18.2% during forecast period (2022-2030). Global EMS market is primarily driven by rising awareness about carbon footprint and an increase in demand for efficient EMS. Rising concern of various governments on increasing carbon emission level and calculation of carbon footprint per product. Growing carbon emission and increasing demand for energy across the globe is expected to drive the demand for EMS to efficiently manage the energy consumption and generation. Government of various countries are rising their concern on increasing carbon emission level and calculation of carbon footprint per product.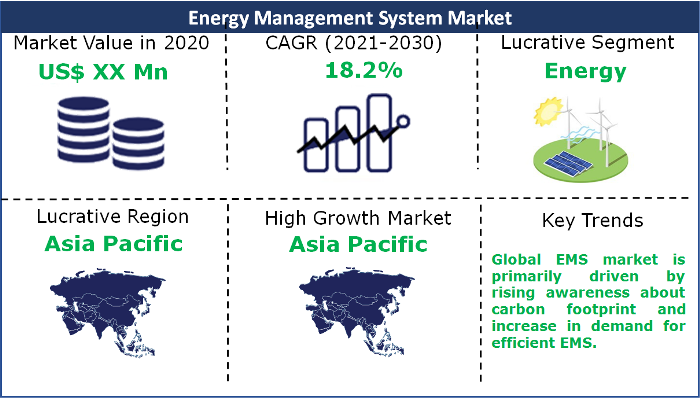 Increasing Demand for Renewable Source Remains as Noticeable Trend Impacting EMS Market
According to U.S. Environmental Protection Agency, total greenhouse gas emissions associated with human activities by energy consumption have increased across the globe. According to International Energy Agency, renewable sources are the most cost-effective source of power generation and hence renewable sources have captured two-third of all the investments under power plants till 2040. Further, governments across the globe have realized the advantages of renewables and thus these bodies are highly inclined towards the adoption of renewable energy sources for electricity generation. Further, renewable energy accounted 80% of the new capacity in 2017, whereas wind power would become the leading source of electricity production after 2030. Thus, as the demand for renewable energy surges, this creates favorable adoption opportunities for energy management systems. Increasing focus on renewable sources for electricity generation is calling for the adoption on EMS for efficiently managing the electricity network. Thus, the increase in net capacity additions till 2040 and growth in renewables would present significant adoption opportunities for EMS and thus has been considered as one of the crucial factors while projecting the market revenues till 2024.
Industrial Sector Remains as the Key End User Segment Contributing over 60% of Revenues
Global EMS market has been segmented on the basis of product, vertical and end-user. Industrial in global EMS market accounts the largest share in terms of revenue with around 62.60% market share in 2021. Implementation of energy efficiency standards for industries by different governments is major factor driving the EMS market across the globe. However, the industrial 4.0 revolution also act as a supporting factor for the market as the practice focusing increasing energy consumption efficiency and bring automation. Government of China, Germany, Japan and others are also working on increasing the energy consumption efficiency by implementing different practices such as adopting EMS.
North America Takes the Lion's Share
Geographically, the EMS market has been segmented into North America, Europe, Asia Pacific and Rest of World (ROW). North America accounts the largest share with 34.14% market share in 2021, owing to investment by the government of United States and Canada on energy management program and their implementation. Federal government has introduced "Federal Energy Management program" to efficiently manage the energy consumption and to minimize carbon emissions. The goals of this program include helping agencies to reduce green-house gas (GHG) emissions by 40% by 2025.
China Estimated to be the Fastest Growing Market
China EMS market is projected to grow at highest pace with a CAGR of 19.3% during the forecast period 2022-2030. China EMS market is primarily driven by increasing investment in the country for energy management, saving, reducing carbon emission and increasing efficiency of the systems. China have several programs such as Top-1,000 and Top-10,000 Energy-Consuming Enterprises Program, policies and standards that work towards increasing energy efficiency, saving and reducing carbon emission. Also, China has developed national and provincial-level Energy Management System (EnMS) policies and standards making EMS to be mandatory to implement for large industrial enterprises. Thus, growing investment and programs is expected to drive the adoption of EMS in the country.
EMS Market Remains as Highly Competitive Market
Product launch & upgrade is the primary strategy adopted by companies in the global EMS market. Collaboration, joint venture & partnership is the secondary strategy adopted by companies in the global EMS market. The intensity of competitive rivalry in the global energy management system market is high. Companies in the market are adopting various strategies to maintain and increase their market share by capturing new customers. Top companies in the EMS market include Honeywell International, Siemens AG, Schneider Electric, General Electric Company, ABB, and others.
Historical & Forecast Period
This research report presents the analysis of each segment from 2020 to 2030 considering 2021 as the base year for the research. Compounded annual growth rate (CAGR) for each respective segment is calculated for the forecast period from 2022 to 2030.
Report Methodology
Market revenues and CAGR were derived from primary and secondary research. Both quantitative and qualitative trends were considered for the extrapolation of market revenues. The derived market estimates were further validated from top-down, bottom strategies, and primary research. The scope of the market is limited to the following segments of product categories and regions.
Market Segmentation

By Product (2020-2030; US$ Mn)
Industrial Energy management system
Building energy management system
Home energy management system
By End Users (2020-2030; US$ Mn)
By Vertical (2020-2030; US$ Mn)
Power & Energy
Telecom & IT
Manufacturing
Retail & Offices
Healthcare
Others
By Region (2020-2030; US$ Mn)
North America
Europe
Asia Pacific
Latin America
Africa
Global Impact of Covid-19 Segment (2020-2021; US$ Mn)
Pre Covid-19 situation
Post Covid-19 situation
Key questions answered in this report
What are the key market segments in the current scenario and in the future by product categories?
What are the key market segments in the current scenario and in the future by region?
What is the key impact of Covid-19 over market revenues and market determinants in the global energy management systems market?
What are the primary and secondary macro and micro factors influencing the market growth currently and during the forecast period?
What are the primary and secondary macro and micro factors deterring the market growth currently and during the forecast period?
How to overcome the current market challenges and leverage the opportunities in each of the market segments?
Who are the key players in the operational predictive maintenance market and what are their key product categories and strategies?
What are the key strategies – mergers/acquisitions/R&D/strategic partnerships etc. that companies are deploying to enhance market revenues and growth