The neurological diseases treatment market is projected to grow at a CAGR of 5.1% during the forecast period from 2021 to 2030. This market is observed as the most diversified and competitive market comprising large number of players globally. The key driving factors assisting the growth of these two segments are rising prevalence of neurological diseases, incessant development in diagnostic technology, and rising awareness associated with early disease diagnosis through awareness campaigns carried out by governmental or non-governmental organizations. However, market entry of efficient drugs in the near future due to presence of strong drug pipeline is expected to impact the market share of traditional drug treatments and further boost the overall growth of this market. Rising research and development activities in the field of neurology has been the key driver for neurological diseases treatment market and is expected to fuel its growth throughout the forecast period (2021 – 2030).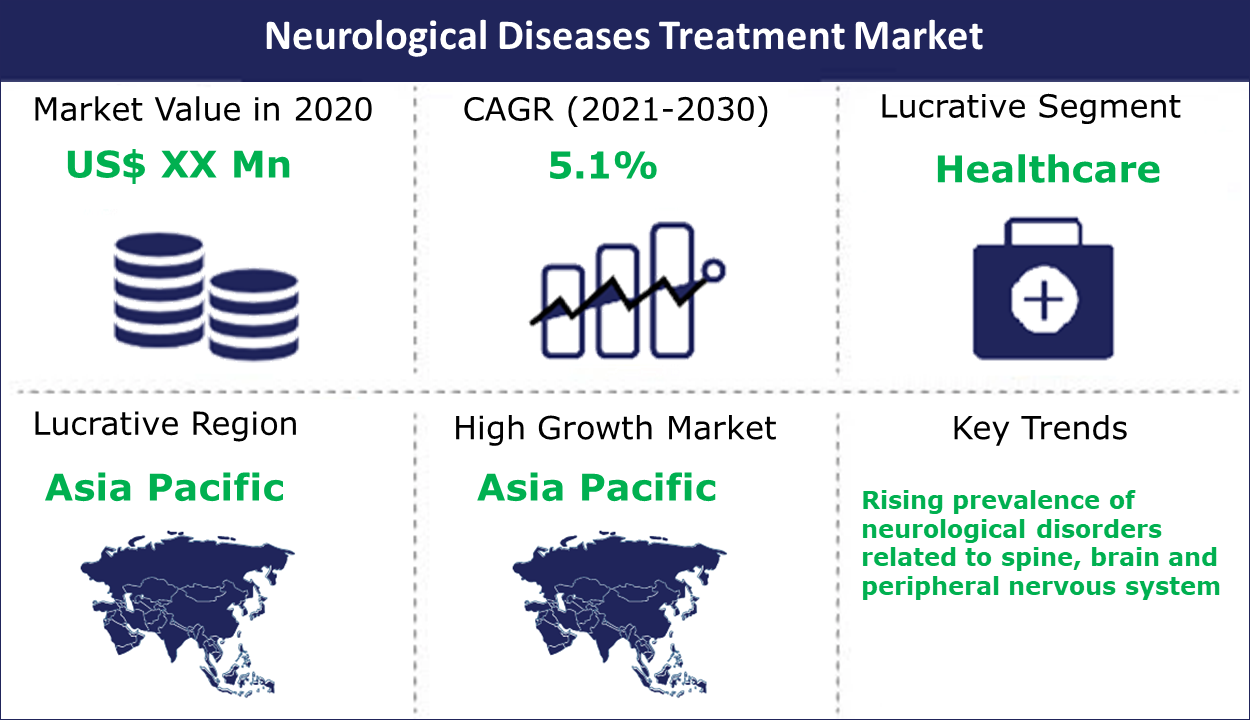 Rising prevalence of neurological disorders related to spine, brain and peripheral nervous system
With changes in lifestyle the frequency of neurological/EEG disorders is increasing significantly. One ofthe most common diseases is epilepsy. The prevalence of epilepsy focuses on the number of people with epilepsy at any given point in time. This comprises people with new onset epilepsy plus those who have had epilepsy for a longtime. Each year, about 150,000 Americans are diagnosed with the central nervous system disorder that causes seizures. Furthermore, it is estimated that over a lifetime, one in 26 people will be diagnosed with it. As per the Centers for Disease Control and Prevention, around 2.3 million American adults suffer from epilepsy. More than 467,000 children have been diagnosed with the central nervous system disorder. According to the facts presented by American Society of Clinical Oncology (ASCO) in 2018, approximately 23,820 U.S. citizens have been diagnosed with brain and spinal cord tumors. There has been a significant rise in peripheral nervous disorder throughout the globe such as neuropathy, sciatica, carpal tunnel syndrome, polyneuropathy, post herpetic neuralgia etc. The primary causes associated with its disease etiology are diabetes, alcoholism, malnutrition, nerve compression, genetic predisposition etc. Significant rise in cranial trauma further accentuates neurological disorders in later stage of human life.
Alzhiemer's Treatment Drugs Is to Be the Most Potential Segment
The anticholinergic and antiepileptic segment alone contribute to over 44% of the revenue share in 2020. This is largely due to increased focus on R&D in these drugs segment and its application in controlling muscle movement. Increasing prevalence of neurological disorders remains as the key driver to market growth. Based on therapeutic segment, Alzheimer's disease dominated the market segment in 2020. Intense R&D initiatives are the key reason for the largest share of Alzheimer's segment, apart from other drivers such as increasing prevalence rate across the globe. Alzheimer's is also expected to retain its top positon throughout the forecast period. Parkinson's disease remains as the second largest market for neurological treatment drugs market.
North America is The Largest market while APAC Remains as The Fastest Growing Market
North America accounted for the largest share in global neurological diseases treatment market due to key driving factors such as rising prevalence of neurological diseases, rising awareness associated with early neurological disease diagnosis and treatment, supportive reimbursement policies, & incessant developments in the field of research and development. An estimated 5.4 million Americans have Alzheimer's disease and today someone in America develops Alzheimer's disease every 68 seconds. By 2050, there is expected to be one new case of Alzheimer's disease every 33 seconds, or nearly a million new cases per year, and Alzheimer's disease prevalence is projected to be 11 million to 16 million. During the forecast period 2021 – 2030, Asia Pacific grew at the fastest rate of 6.3% CAGR from 2021 to 2029 due to emerging market potential that is promising a higher uptake of neurological diseases treatment drugs during the forecast period. The key driving factors include increasing prevalence of neurological disorders, developing healthcare infrastructure, rising awareness associated with neurological diseases which is fueling the rate of diagnosis, and mounting accessibility of modern treatments in developing countries such as China, India, and Indonesia.
Partnerships and Collaborations Are Key Winning Strategies
The market is dominated by several players, depending on their major competencies. The key players in this market are Novartis, GSK, Merck & Co., Boehringer Ingelheim GmbH, Bayer AG, Astra Zeneca, F-Hoffmann-La Roche Ltd., Teva Pharmaceutical Industries Ltd., and GlaxoSmithKline plc among others.It is evident that drug related activities are the most preferred strategy among the top players. Drug related activities include drug approval across various geographies, presenting clinical trial outcomes, receiving permission to launch neurology drugs in various phases of clinical trials. Strategies such as mergers and acquisitions and partnerships & collaborations are comparatively insignificant in this market.
Historical &Forecast Period
This research report presents the analysis of each segment from 2020 to 2030 considering 2021 as the base year for the research. Compounded annual growth rate (CAGR) for each respective segment are calculated for the forecast period from 2021 to 2030.
Report Methodology
Market revenues and CAGR were derived from primary and secondary research. Both quantitative and qualitative trends were considered for extrapolation of market revenues. The derived market estimates were further validated from top down, bottom strategies and primary research. The scope of the market is limited to the following segments of product categories and region.
By Type of Drug (2020-2030; US$ Mn)
Anticholinergic
Antiepileptic
Antipsychotic
Hypnotic & Sedative
Analgesics
Antihypertensive
Anticoagulants
Others
By Therapeutic Segment (2020-2030; US$ Mn)
Epilepsy
Alzheimer's disease
Parkinson's disease
Multiple Sclerosis
Cerebrovascular disease
Others
By Region (2020-2030; US$ Mn)
North America
Europe
Asia Pacific
Latin America
Africa
Global Impact of Covid-19 Segment (2020-2021; US$ Mn)
Pre Covid-19 situation
Post Covid-19 situation
Key questions answered in this report
What are the key market segments in current scenario and in the future by product categories?
What are the key market segments in current scenario and in the future by regions?
What is the key impact of Covid-19 over market revenues and market determinants in the global neurological treatment market?
What are the primary and secondary macro and micro factors influencing the market growth currently and during the forecast period?
What are the primary and secondary macro and micro factors deterring the market growth currently and during the forecast period?
How to overcome the current market challenges and leverage the opportunities in each of the market segment?
Who are the key players in the operational predictive maintenance market and what are their key product categories and strategies?
What are the key strategies – mergers/acquisitions/R&D/strategic partnerships etc. that companies are deploying to enhance market revenues and growth?