The global polyurethane market is estimated to grow at a CAGR of 6.3% during the forecast period 2022-2030. Different types of polyurethanes are available in the market such as flexible polyurethane foam, rigid polyurethane foam, thermoplastic polyurethanes and polyurethane binders for variety of applications such as automotive, building & construction, Footwear, furniture & bedding, Electronics and many other applications. Furniture & bedding is the largest market segment for polyurethanes with 37% in the year 2021. Building and construction is the fastest growing segment of the polyurethane with CAGR of 9.4% during the forecast period.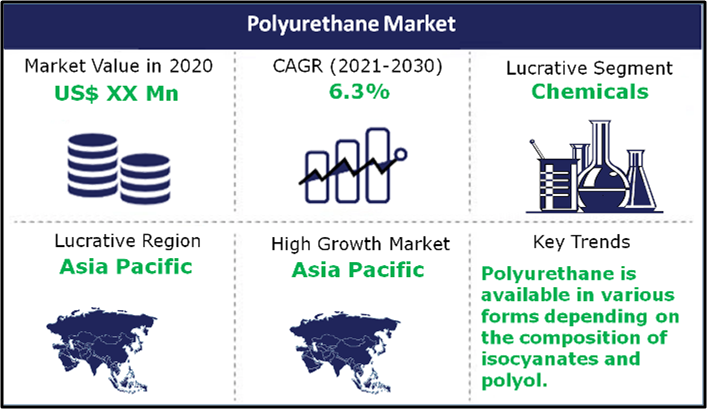 Automotive & Furniture Holds Over 50% of the Market
Automotive & furniture has been the most promising industry applications of polyurethane covering more than 50% of the total polyurethane market altogether. PU is a versatile material available in various forms such as rigid foam, flexible foam, TPU (thermoplastic polyurethane), and so on. Such wide range enables its multiple applications in automotive and furniture industry. Automotive industry is undergoing various innovations in terms of design, comfort and engine efficiency. The main benefits which polyurethanes bring are comfort, safety, weight saving and longevity coupled with design freedom. The various applications of polyurethane in automotive involve cushion foam, carpet, door panels, sound absorption and vibration dampening, steering wheels, airbag covers, window encapsulation. PU is also used in the commercial transportation industry for body panel, front & rear systems, surrounds, wheel covers, grilles, molding and trim to improve impact resistance, corrosion resistance, energy management and vehicle aesthetics. The major driver for the growing demand of polyurethane in automotive & transportation is various benefits of the material such as weight savings and Energy savings.
Key Players and Market Shares
PU market is highly fragmented with many small & local players in the market. The large chemical companies in order to utilize the market potential and understanding of the regional market are acquiring the small players. Most of the acquisitions are aimed to strengthen the market share or to expand the business in a particular geography. Polyurethane industry witnesses a tough fight among the companies for product launches. Polyurethane is a versatile material and can be used in various industrial applications. Moreover, polyurethane material has various advantages over other materials such as metals. Thus, chemical companies are constantly focusing on doing much with polyurethane.BASF is market leader in polyurethane Market with xx% global share. With XX% market share Bayer AG is second largest company in the polyurethane market. Company has its presence in many countries of Europe, Asia, Africa, Middle East, US and Australia. Joint venture and innovations are key strategy of the company. XX with XX% market share is a key player in polyurethane market. Business expansion and innovations are the key strategies of the company. XX and XX is another top player in the industry with XX% and XX% market share respectively. xx% market is covered by other companies and SMEs.
Flexible Foam Holds the Largest Share
Polyurethane is available in various forms depending on the composition of isocyanates and polyol. These types include polyurethane flexible foam, polyurethane rigid foam, PU Coating, Adhesive & Sealants, Elastomers, and Binders. With 37% market share flexible foam is the largest market segment of the polyurethane in 2021. The diversified use of polyurethane has created significant opportunities for manufacturers to grow. The key strategic activities include innovations, acquisitions, product launches, geographic expansions and R&D investments. Most of these strategies are primarily aimed to enhance product portfolio and expand market share of the company.Polyurethane companies are constantly seeking to develop new innovative products to strengthen their market position.
Asia to be the Fastest Growing Market
The global polyurethane market is segmented into four major geographies North America, Europe, Asia and ROW. Asia is the fastest growing market in polymer industry at a CAGR 5.6% due to the growing application markets in the region such as healthcare, automotive and packaging. Asia pacific has been the fastest growing polyurethane market. The market is driven by countries such as China, Japan, South Korea, India, Taiwan, Malaysia, Thailand, Indonesia, and Philippines. The major industrial segments using polyurethane would be transportation, consumer durables, and building & construction. Automotive sector which includes both public and private transportation as well is the largest application of consumer market. The presence of leading automobile manufacturers such as Toyota (Japan), Tata Motors (India) and so on has led to the growth of automotive industry in the region. Asia-Pacific has witnessed significant manufacturing capacity expansions in the last five years. Most major manufacturers such as BASF S.E. (Germany) have capacity expansion plans in Asia-Pacific. A rapidly improving infrastructure and availability of energy & skilled labor at competitive rates are the driving factors that facilitate capacity expansions by major emulsion polymer manufacturers in Asia-Pacific.
Historical & Forecast Period
This research report presents the analysis of each segment from 2020 to 2030 considering 2021 as the base year for the research. Compounded annual growth rate (CAGR) for each respective segment are calculated for the forecast period from 2021 to 2030.
Report Methodology
Market revenues and CAGR were derived from primary and secondary research. Both quantitative and qualitative trends were considered for extrapolation of market revenues. The derived market estimates were further validated from top down, bottom strategies and primary research. The scope of the market is limited to the following segments of product categories and region.
Global Petrochemicals and Polymers Market, By Product Type, 2020-2030, ($Millions)
Thermoplastics

PET
HDPE
LDPE
PP
PS
PVC
Others

Thermosetting

Polyurethane
Unsaturated polymer
Epoxies
Phenol formaldehyde
Others

Elastomers
Global Petrochemicals and Polymers Market, By Application, 2020-2030, ($Millions)
Packaging
Building and Construction
Electronics
Automobile
Agriculture
Others
By Region (2020-2030; US$ Mn)
North America
Europe
Asia Pacific
Latin America
Africa
Global Impact of Covid-19 Segment (2020-2021; US$ Mn)
Pre Covid-19 situation
Post Covid-19 situation
Key questions answered in this report
What are the key market segments in current scenario and in the future by product categories?
What are the key market segments in current scenario and in the future by regions?
What is the key impact of Covid-19 over market revenues and market determinants in the global Polyurethane market?
What are the primary and secondary macro and micro factors influencing the market growth currently and during the forecast period?
What are the primary and secondary macro and micro factors deterring the market growth currently and during the forecast period?
How to overcome the current market challenges and leverage the opportunities in each of the market segment?
Who are the key players in the operational predictive maintenance market and what are their key product categories and strategies?
What are the key strategies – mergers/acquisitions/R&D/strategic partnerships etc. that companies are deploying to enhance market revenues and growth?