Global solid-state battery market is growing at a CAGR of 70.8% during forecast period (2022 -2030). Global solid-state battery market is primarily driven by rising research and development activities in solid state batteries and growing demand for electric vehicles. Companies in solid state batteries are investing huge capital in research activities to develop new and advanced batteries with less charging time, compact size and more efficiency. This acquisition expects to enhance companies to offer solid-state batteries in electric car industry. Furthermore, increasing adoption of electric vehicles is expected to propel the demand of solid state battery globally. Electric vehicle companies are adopting solid state battery owing its superior characteristics such as less charging time, compact size and heat resistance quality. Global solid-state battery market has been segmented on the basis of type of battery, capacity and application. Small size and heat resistance capacity are two major benefits proposed by solid-state batteries owing rise in adoption across consumer electronics segment include smartphones, PCs, laptops and others. As per The Pennsylvania State University (U.S.), liquid electrolytes of conventional batteries catch fire at 150 degrees Celsius, whereas Na-ion electrolyte developed by researchers can resist up to 400 degrees Celsius.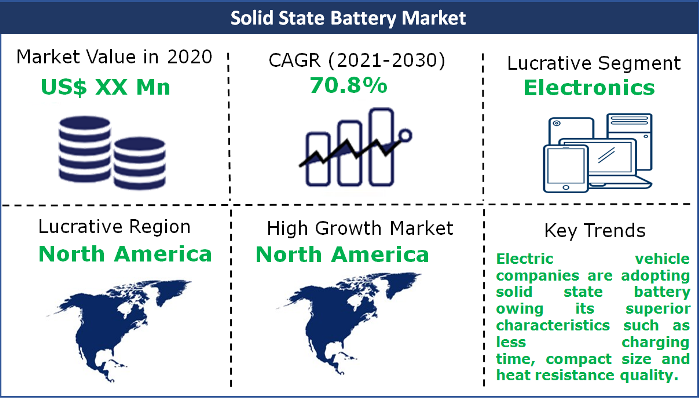 Growth in Electric Vehicles to Drive Global Solid-State Battery Market
Solid-state batteries are considered as an ideal choice for electric vehicles owing myriad of advantages offered by solid-state batteries over conventional battery technologies. The advantages include faster charging time, high energy density, less maintenance, compact size, ability to withstand high temperatures and others. The batteries are vital component of electric vehicles and account for about one-third of total cost of E-Vehicle. Government new emission targets and supportive policies regarding the adoption of electric vehicles, lowered vehicle costs, and new durable battery technologies are the key factors escalating the adoption of electrical vehicles. Further, according to the International Energy Agency (IEA) (France), total electric vehicles sale across the globe is reached 6.8 million by 2020 increasing from 4 million in 2016, growing at an average of 14.2% per annum. Growing market for electric vehicles and increasing battery capacity is expected to supplement global solid-state battery market.
Next Gen Batteries to Limit the Growth of Solid State Battery Market
Next generation batteries are not in a solid form that may act as alternate for global solid-state battery market. The next generation batteries include Li-ion batteries, advanced Li-ion batteries, Lithium-Sulphur batteries and others. Various research initiatives and investments considering liquid state lithium ion batteries would pose a strong competition to solid-state battery market. for instance, Spinel-type oxides, Polyanion materials and others are advanced cathodes that would be used in next generation lithium-ion batteries. Greater gravimetric and volumetric energy density are advantages served by these cathodes. Further, various companies including Tesla Motors (U.S.), BYD (China), Samsung SDI (South Korea) and others are investing significantly in next generation batteries. Hence, all such initiatives strive towards the development of next generation batteries that pose a certain level of competition to global solid-state battery market.
Growing Adoption of Solid-State Batteries in Wearable Devices to Act as Opportunity
Wearable electronic devices require a robust, flexible and light weight power source to operate efficiently. Solid-state batteries owing their ability to provide high flexibility along with stretchable and high-power density is suitable for wearable devices. The demand for high performance energy storage batteries is driving the development of wearable devices market. Further, energy harvesting is an important technology for powering wearable devices and wireless sensor nodes. Solid-state batteries also have the capability to recharge via harvested ambient energy or wirelessly. Thus, rise in wearable device market is expected to offer lucrative growth opportunity in market over forecast period. Rise in wearable device market battery. Hence, there is an increasing shift observed towards development of solid-state batteries for wearable devices. advancements in this market offer lucrative opportunities for growth of global solid wearable devices.
North America Takes the Lion's Share
Geographically, global solid-state battery market has been segmented into North America, Europe, Asia Pacific and Rest of World (ROW). North America solid-state battery market is dominating by capturing largest market share in terms of revenue of around 33.74% in 2021. Rising adoption of electric vehicles and rising research & development activities related to solid-state battery are some major factors propelling demand of solid state battery market in the region.
The Intensity of Competiveness to Remain High during The Forecast Period
The intensity of competitive rivalry in global solid-state battery market is expected to remain at high level over the forecast period 2022-2030. Global solid-state battery market is highly consolidated with the presence of many big players such as Excellatron Solid State, LLC (U.S.), Solid Power, Inc. (U.S.), Sakti3 Inc. (U.S.) (DYSON), Cymbet Corporation (U.S.), Toyota Motor Corporation (Japan) and others. Companies are trying to compete by providing same characteristics and similar price or by similar features at competitive prices for products in solid-state battery market. Companies are focusing on new product development, merger and acquisition and collaborative research and development to sustain in market and strengthen their respective positions in global solid-state battery market which is also increasing the competition.
Historical & Forecast Period
This research report presents the analysis of each segment from 2020 to 2030 considering 2021 as the base year for the research. Compounded annual growth rate (CAGR) for each respective segment are calculated for the forecast period from 2022 to 2030.
Report Methodology
Market revenues and CAGR were derived from primary and secondary research. Both quantitative and qualitative trends were considered for extrapolation of market revenues. The derived market estimates were further validated from top down, bottom strategies and primary research. The scope of the market is limited to the following segments of product categories and region.
By Type (2020-2030; US$ Mn)
Thin-film batteries
Bulk batteries
Other batteries
By Application(2020-2030; US$ Mn)
Consumer electronics
Electric vehicle
Energy harvesting
Medical devices
Wearable devices
Other applications
By Capacity (2020-2030; US$ Mn)
Less than 20mAh
Between 20 mAh and 500 mAh
500 mAh and above
By Region (2020-2030; US$ Mn)
North America
Europe
Asia Pacific
Latin America
Africa
Global Impact of Covid-19 Segment (2020-2021; US$ Mn)
Pre Covid-19 situation
Post Covid-19 situation
Key questions answered in this report
What are the key market segments in current scenario and in the future by product categories?
What are the key market segments in current scenario and in the future by regions?
What is the key impact of Covid-19 over market revenues and market determinants in the global solid state batterymarket?
What are the primary and secondary macro and micro factors influencing the market growth currently and during the forecast period?
What are the primary and secondary macro and micro factors deterring the market growth currently and during the forecast period?
How to overcome the current market challenges and leverage the opportunities in each of the market segment?
Who are the key players in the operational predictive maintenance market and what are their key product categories and strategies?
What are the key strategies – mergers/acquisitions/R&D/strategic partnerships etc. that companies are deploying to enhance market revenues and growth?