The titanium dioxide market was valued at USD17,592.1Mn by 2019. Increasing demand for titanium dioxide as a paint and coating material from the automotive, building & construction, and aerospace segments. Additionally, its ergonomic features such as sunscreen protection ability increase its demand for cosmetic products worldwide.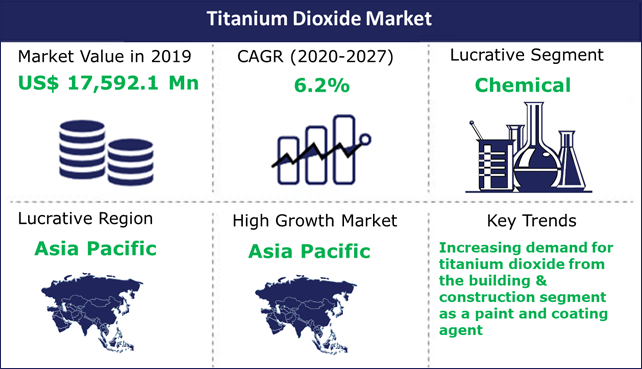 Titanium Dioxide is gaining tremendous traction form the mining and metallurgy industry segment. It also finds commercial significance as a naturally occurring dye product in the textile industry. It is also employed as a decorative aid in the food industry but its use is limited on account of its toxicity. Titanium dioxide finds commercial viability in the pharmaceutical industry as a pharmaceutical excipient for the formulation of photolabile drugs and used in the preparation of capsules owing to its opacity.
The major segments related to the titanium dioxide market are:
By Grade (2017–2027; US$ Mn)
Rutile
Anatase
By Application (2017–2027; US$ Mn)
Paints & Coatings
Cosmetics
Others
Geography Segment(2017–2027; US$ Mn)
North America
United States
Canada
Europe
United Kingdom
Germany
Russia
France
Italy
Spain
Ukraine
Rest of Europe
Asia Pacific
China
Japan
Rest of Asia Pacific
Latin America (LATAM)
Brazil
Mexico
Rest of Latin America
Middle East and Africa (MEA)
GCC
Rest of MEA
Justification for study?
The intention of the study is to give a comprehensive outlook of the global titanium dioxide market
The overall segmentation of the titanium dioxide market, by grade, application, and geography is minutely studied. Rutile and paints & coatings are dominating the grade and application segments respectively
Increasing demand for paints and coatings form the building and construction segment
Constant rise for titanium dioxide in the cosmetics segment for its UV protection and whitening effects
Report gist?
The study of the global titanium dioxide market includes qualitative analysis of factors such as drivers, restraints, and opportunities
The report covers qualitative and quantitative analysis of the overall market segmented on the basis of grade and application and categorization of the same at geography level
This research report presents the analysis of each segment from 2017 to 2027 in which 2019 is considered as the base year. Compounded annual growth rate is calculated for the respective segments from 2020 to 2027
The study includes the profiles of major market players with a significant global and regional presence along with top company positioning
Significant customers?
This study is suitable for industry participants and stakeholders in the chemical companies engaged in manufacturing and marketing of titanium dioxide owing to it huge demand as a coating and painting agent from the building & construction segment
The report will benefit researchers engaged in the development of cosmetic preparation using titanium dioxide for its sunscreen effect
Managers with financial institutions looking to publish recent and forecasted statistics pertaining to titanium dioxide market
Financial institutions venture capitalist, analysts, investors, government organizations, policymakers, regulatory authorities, researchers, looking for insights into the market to determine future strategies
Segment Analysis
Rutile is representing the largest market share in the grade segment for titanium dioxide market. It is the most common and abundant form of a polymorph of titanium dioxide. It possesses a high refractive index at a visible wavelength and hence exhibits high dispersion and birefringence. It is available in red color as it comprises of 10% iron and some amount of tantalum and niobium. It is considered as the most stable form of titanium dioxide polymorph on account of its stability at high temperature and low total free energy. Anatase is a metastable form of titanium dioxide which usually occurs as a black crystalline material and it exhibits strong luster on account of its optically negative nature.
Paints and coatings are spearheading the application segment for the titanium dioxide market. Titanium dioxide is utilized as a pigment material in the paint industry. The inherent features associated with titanium dioxide such as scattering of visible light, whitening effect, opacity, etc. increase its demand as a coating material in the building & construction segment worldwide. Increasing demand for paints and coatings in the automotive and aerospace segment further accentuates the titanium dioxide market growth. Cosmetics is estimated to register rapid market growth in the near future o account of the sunscreen effect and UV protection ability of titanium dioxide.
Asia Pacific is leading the geography segment for the titanium dioxide market. The major factors responsible for its market dominance are increasing demand for titanium dioxide from the building & construction segment for its coatings and paintings application. The rise in per capita income has resulted in the flourishing market growth in the building & construction segment in countries such as India, China, and Southeast Asia, etc. Additionally, the implementation of numerous airport construction and industrial clusters development causes increased demand for titanium dioxide market in the region. Europe is the second-largest regional segment for the titanium dioxide market. Strategic collaboration between the academic research institutes and cosmetic manufactures to develop formulation containing titanium dioxide owing to its sunscreen effects. North America is anticipated to register rampant market growth during the forecast period on account of a significant rise in skin disorders in the Caucasian population due to skin exposure to harmful UV radiation.